---
Nancy May, President and CEO of BoardBench Companies Cited in Forbes as
One of America's Governance Experts.
Click here to listen to our newest addition: Boardrooms' Best  Podcast.


Our most recent article on activist investors.
While we're redesigning this section, please click on the article title for a full copy of our most recent release.
A 10 Point Anti-Activist Pro Plan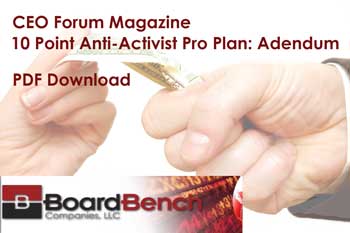 By Nancy May
The following provides only small top level glimpse of the addendum to our CEO Forum Magazine article.  For a full copy of this write-up please click on the report image on the right side of this page.  Thank you. 
UNDERSTAND THE THREAT: Forewarned is forearmed.
1) Admit the Probability.  
2) Want to keep your board seat? Prepare Now!
FIND YOUR FRIENDS: You can't do this alone. 
3) Understand Your Stockholders.  This can't be overstated. 
4) Find Advisors Who Will be Real Friends.  Good advisors can take many forms!
5)  Be Wary of Anti-Activist Defense Specialists.  If you do, figure out whose side they really serve.  
6) Take Stock of all the Directors - From an Activist's Perspective.  Tough but not impossible to do.
7)  Thoroughly Know the Company's Strategy.  Do you actually have one?
8) Look at the Business Like an Activist.  Rigorously assess.
9)  Look at Management Regularly. Support, reward, or replace as necessary and without hesitation.
PLAN FOR THE WORST: Set firm ideas about what you will and won't do!
10)  Have a Plan, Set Guidelines.  
   -  Look to Win.
   -  Deflection is Better than Engagement
   -  Control the Stage.
   -  Don't Let Outsiders Know What You're Thinking.
  -  Don't Give Them Credit.
For FULL detail on all of the above, please download the full PDF.  
Thank you.